Join me and 120 other speakers from around the world who will be bringing you the very latest content around SharePoint, Office 365, Flow, PowerApps, Azure, OneDrive for Business and of course the increasingly popular Microsoft Teams. The event is produced by the Collab365 Community and is entirely free to attend.
Places are limited to 5000 so be quick and register now.
During the conference I'd love you to watch my session which is called : 'The State of Communication Sites & UI Customization in SharePoint Online'
As Microsoft has recently rolled out the new modern communication sites to First Release tenants as well as the SharePoint Framework (SPFx), we are starting to see the future of what custom intranet portals could become. These features are a great start for modern intranets, but we are still very early in their maturity. In this session we will discuss the realities of the current state of communication sites and what options you can expect for creating custom UI now and in the near future.
During the session we will look at replicating the following design in a SharePoint Online communications site including the custom header and footer: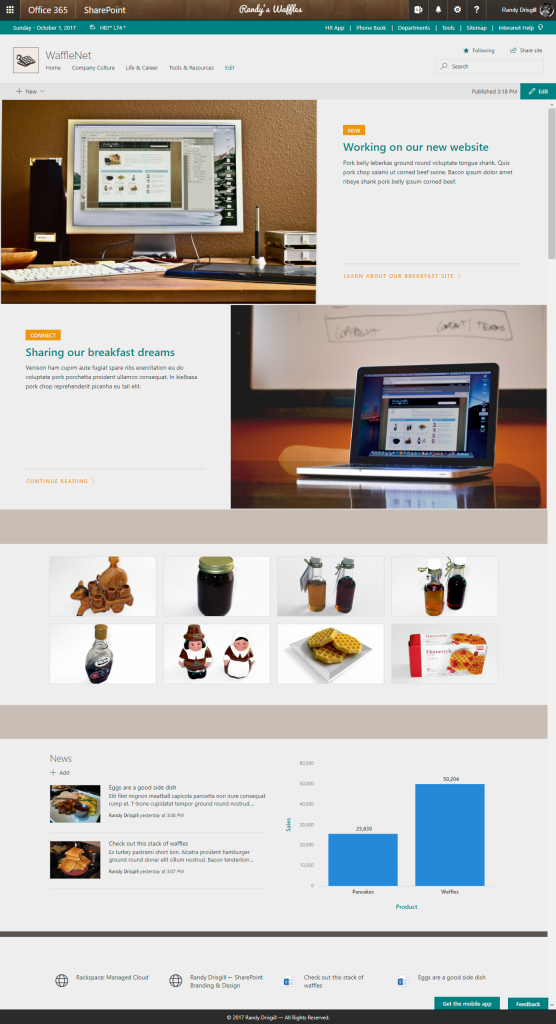 Time :
Thursday, November 2 2017 10:00 PM Eastern
How to attend :
Register here.
At the time listed above go here to watch my session. (you can also add me to your own personal planner from the agenda.
Be ready to take notes!